Testimonials
The Dog Squad Dog Training Testimonials
Give us a call at 510.646.9657 to learn more about our training programs and how we can help your dog!
Check us out on Yelp too!
When Lynn first called us about her 5 month old Border Collie puppy she was having a hard time controlling him. Cody was very demanding and willful puppy. Lynn felt like she was being out smarted at every turn by her dog.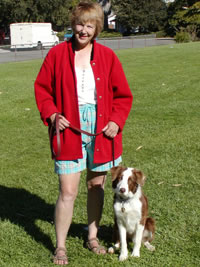 Lynne Freeman
"When Steve Bettcher began working with us, Cody was 5 months old and on his way to becoming a dominant, problem dog. He was willful, demanded attention and when he didn't receive it, he'd began an escalating series of behaviors designed to get it.
Steve immediately diagnosed the problem and suggested a series of activities designed to correct the situation and to move forward each week with several new skills. He works with the dog, its people and its living environment and design training schemes that are realistic for the situation and for the goals of the owners.
I was amazed and thrilled with the rapid progress that Cody and I made, and I credit it largely to Steve's skill in effective training techniques and their professionalism…Steve is a good listener and is positive and professional in his manner…I recommend The Dog Squad highly."
Dog Training Livermore
Lynne Freeman
---
When I first got the call from Rhea she was extremely distressed. One Veterinarian had recommended that they put Charcoal her 4 year old Pit Bull down. When I arrived Charcoal had been isolated in his dog run for over a week.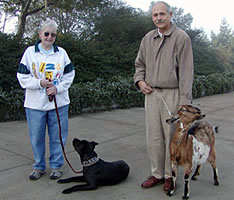 Dog Trainer Oakland trains Rhea Babbitt
Steve Bettcher was referred to me by my veterinarian, Dr. Eric Braun of Skyline Veterinary Hospital, because my beloved Pit Bull, Charcoal, whom I have had for over 5 years killed one of our pet goats. I was so distraught by the incident that I was on the verge of having Charcoal put down.
After Steve talked with me and met Charcoal he was convinced that this dog could be saved.
Steve's instructions for working Charcoal were clear and easy to follow.
He also helped me forgive Charcoal after I understood that what he did was part of his natural prey drive and that he was not an evil killer dog. Charcoal is a loving dog and I have taken him out to visit people in rest homes and to visit with children in schools. He is very gentle and loves attention from people. Through training I have been able to bond even more closely with Charcoal and when the time came to introduce him to the family goats he responded marvelously. Charcoal will sit by my side on a leash with total attention on me while one of the goats is paraded around him.
I would recommend Steve of the Dog Squad to anyone who needs training for a dog. He is professional in every way and a great teacher.
Rhea Babbitt
---
Carol Kowalsky didn't understand her new puppy's behavior and how to develop a proper dog owner relationship. The Dog Squad training gave her both the tools to shape good dog behavior but also how to stop the bad puppy behavior that was causing her so much grief.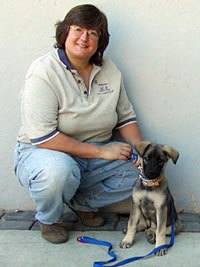 Carol Kowalsky
Dog training with The Dog Squad has given me the confidence and tools to recognize and solve the problems which inevitably arise with a 10 month old German shepherd/Malamute puppy, who now impresses friend and foe alike by coming to me in the middle of play, and sitting and going down with one command even amidst the dog park distractions.
I firmly believe that without proper training, and especially without Steve's help and patience, I would not have the gentle, loving relationship I have with my 73 lb, 10 month old puppy, especially considering the fact that before she was three months old, she was a dominant, aggressive, snapping, growling little alpha-monster.
Dog & Puppy Trainer Reviews – Fremont
Carol Kowalsky
---
Domingo called because his newly adopted Yellow Lab Doe was stronger than he could handle on a leash. Domingo could not walk Doe on a leash without being afraid of being pulled down to the street.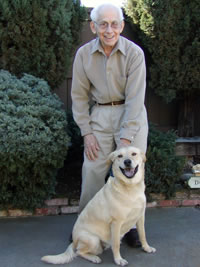 Domingo Pagano
Dear Susan Hughes DVM, Chabot Veterinary Clinic:
I want to thank you for recommending The Dog Squad to train my dog, Doe. I was concerned that Doe was going to be difficult to train, but they were able to train Doe in a very efficient manner. They were very professional and were able to train Doe to sit and walk on a leash.
In fact, Steve came out on his own, at no charge to me, to train my dog walker to properly handle Doe. He knows how to handle dogs that exhibit behavioral issues. I recommend The Dog Squad to any dog owner who needs training.

Dog Training San Leanddro,
Domingo Pagano